So, I have been looking at mom-appropriate bathing suits recently because I have signed Baby CP up for some swim classes. Finding cute one piece bathing suits is hard work! I scoured department store websites and a few other shops looking for acceptable options. When I got home, I found a nice little mailing from Kate Spade. You see, I have a love-hate relationship with Ms. Spade. I love her stuff, but the price tags kill me! I don't love everything, but each season there are one or two items over which I become completely obsessed.
This swimsuit looks perfect...high front, slight ruching but not over the top and low cut legs, lovely orange print... I'm hoping it goes on sale, but given the dearth of cute one piece suits, maybe it will get sold out before I can get my hands on it.
In the meantime, I've ordered this much more affordable swimsuit from Lord and Taylor. It doesn't have all the wonderful details of the Kate Spade one above, but it's pretty cute. I hope it fits!
A few other things that caught my eye from the Kate Spade collection...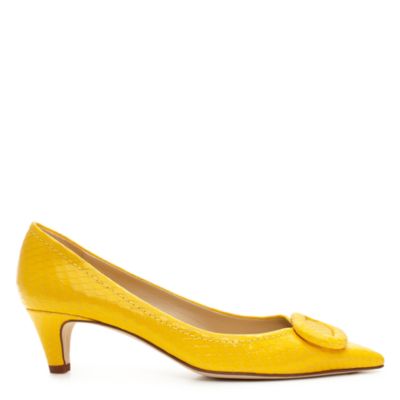 Simon - Low Heels(!) and comes in bright blue and green too.